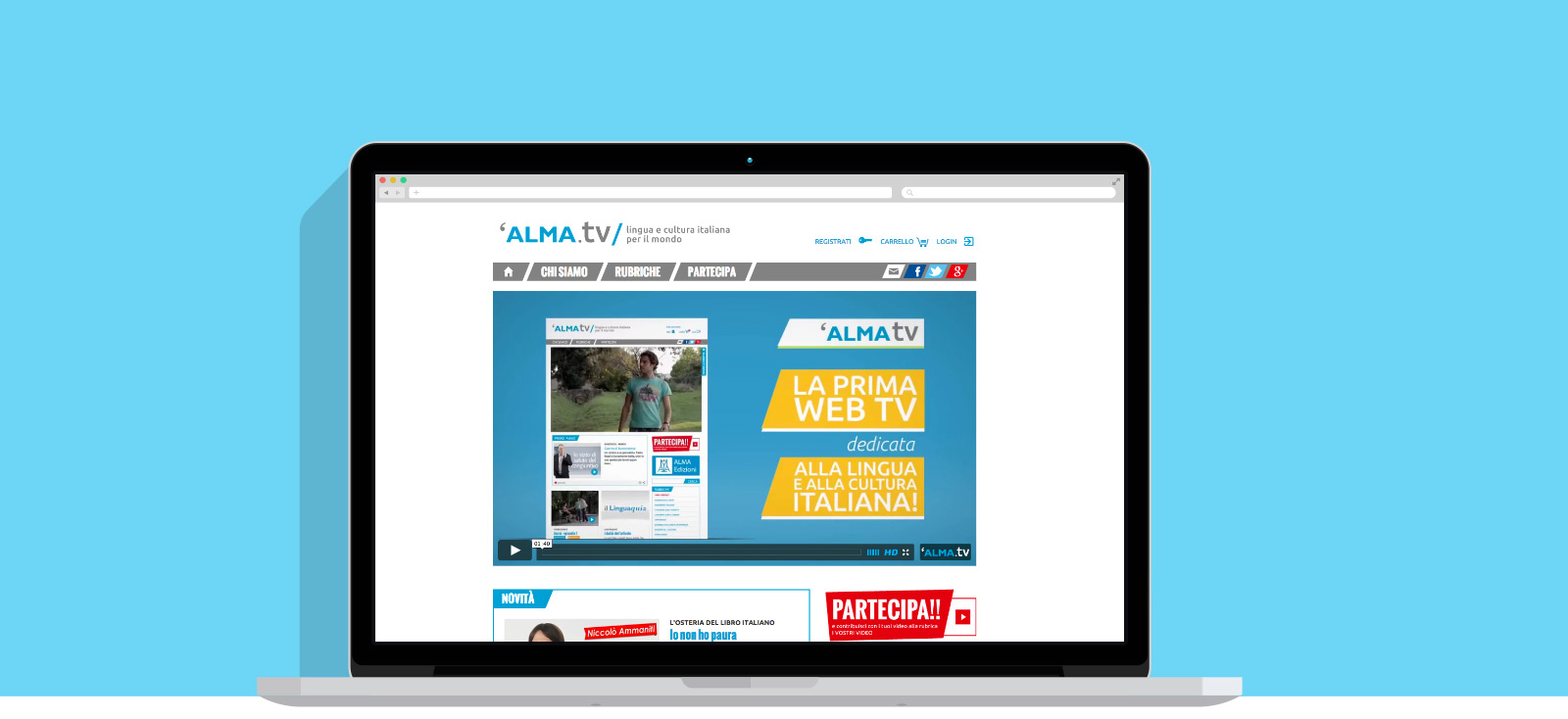 Alma Tv is a video sharing platform addressed to people who are interested in Italian language. It contains educative activities and resources to learn Italian language. The videos, in fact, are equipped with supporting materials (such as exercises, readings etc.) which can be both consulted and uploaded by users (the latter are made available upon approval the editorial staff). All the contents of the website are free and people can choose between two different kinds of viewing mode. The movie clips, in fact, are both available in live streaming and on demand.
Alma Tv is a project designed to meet the expectations of different kinds of users: teachers, students and lovers of Italian culture. For each category there are specific resources. For example, teachers who would like to keep themselves to be updated, can view many clips about seminars and educational lectures. On the other hand, who accesses the website to evaluate his/her knowledge, can use the specific exercises and test.
The website consists of a series ofthematic sectionsand each of them is addressed to a specific age group. There are sections designed for young learners, such as "L'italiano per bambini", as well as sections for grown up students, who acquired advanced competences, like "Italiano con i fumetti" and "In viaggio con Dante".
In order to help users to easily identify the most suitable resources, each video it has been added a colored symbol, indicating the degree of difficulty. Videos, in addition, are accompanied by interactive exercises and educational materials, which can be used during lessons. Alma Tv website is not only a set of tools for the education to Italian language: one of its goal, in fact, is to link students of different cultures and to create a community. At present users can relate and confront their ideas by commenting on the videos. Moreover, registered members can take part in Alma Tv contests by sending their own recordings too. 
The customer
Alma Edizioni is a Florentine publisher, specialized in the production of books and educational materials for Italian language teaching. Paper materials are primarily designed as means of support for teachers. The platform, instead, is addressed to different kinds of users. It contains both specific resources for teachers, as well as for students and for everyone who'd like to develop their knowledge in Italian language.
Our partnership with Alma began in 2010, when the publisher asked us to create the institutional website, www.almaedizioni.it.
Satisfied with the result, in 2014 our customer asked us to build the video sharing platform.
Thanks to this long lasting partnership it was easier for us to understand the publisher needs and to coordinate ourselves during the work.
Our company firmly believes in cooperation and we love to define the peculiarities of the projects we work in together with our customers. In this case too we designed in cooperation with the customer theminimum viable product, in other words the features the platform had to possess.
What did we do
In this specific case, we focused on the technical aspects of the project. The graphic aspects of the project, instead, were taken care by Alma itself.
To build up Alma Tv platform we proposed the customer to employ django CMS version 3.0, which helped us in accelerating the website implementation. This django CMS version (the last to be released), in fact, allows to manage contents directly from front-end editor and thus it's an optimal choice if you have to work in team.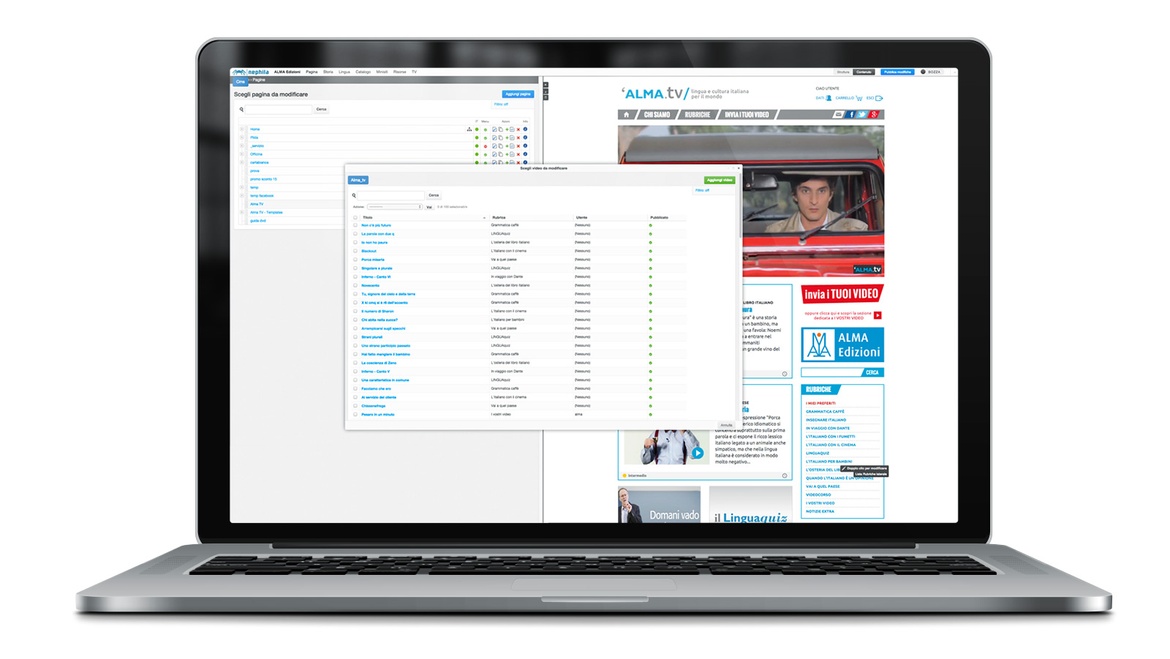 From the operational perspective, we integrated the website with two preexisting video platforms: one reserved for live streaming and another which hosts on demand recordings and collects all the videos posted by the users. Registered members, as mentioned above, can take part in the contests Alma Tv editorial staff proposes periodically. All the recordings that pass the approval of the staffers are published in the website.
Why is it called Alma Tv? Because originally the platform was designed to host thelive streaming channel only. So in the beginning Alma Tv had to function like a tv channel, where a series of videos is played in rotation. Live streaming channel is a strategic tool because when Alma organizes significant events (i.e. Almaxi event) this channel is used to transmit the whole event in live streaming.
On customer demand, we integrated another functionality, which users like very much: the possibility to evaluate the knowledge acquired by taking interactive multiple choice tests. Tests are created by the editorial staff. The creation process is very easy: all that is needed to do by the editorial staff is to write down a series of questions and answers and to indicate the correct solution for each qestion .
In addition, the customer asked to design a platform with three differentlevels of access. It's true, most of the contents are enjoyable even by non-registered web addicted, but there are resources which are reserved for logged in users. Others, more specifically addressed to teachers, are only available to registered professors.
Other details
Alma Edizioni institutional website has a strong identity and thus was able to earn its visibility quickly. In two years and a half it managed to attract the attention of more than 400 thousand users. In the same period, page views reached 4 millions and 400 thousands.
Alma Tv goes hand in hand with the institutional website. The platform, was made on line between the end of April and the beginning of May 2014. It is proving to be able to engage a large user base and to meet the needs of different target groups. Let's consider a few numbers about this project.
A few numbers
The brand new platform is demonstrating that it's able to satisfy completely web surfer needs: in 5 months, in fact, over 31 thousands of usersaccessed Alma Tv website to enjoy the video service and page views reached quota 260 thousands.
Each visitor who connects with the platform, on average, consultsfrom 4 to 5 pages and focuses on the website contents for more than 5 minutes. The platform hosts about 250 videos, of which a hundred were uploaded by the users. Since Alma Tv website has been on line people performed 2 thousands researches. The most popular video (this) has been viewed seen more than 4 hundred times.
Other infos...
Mobile Accesses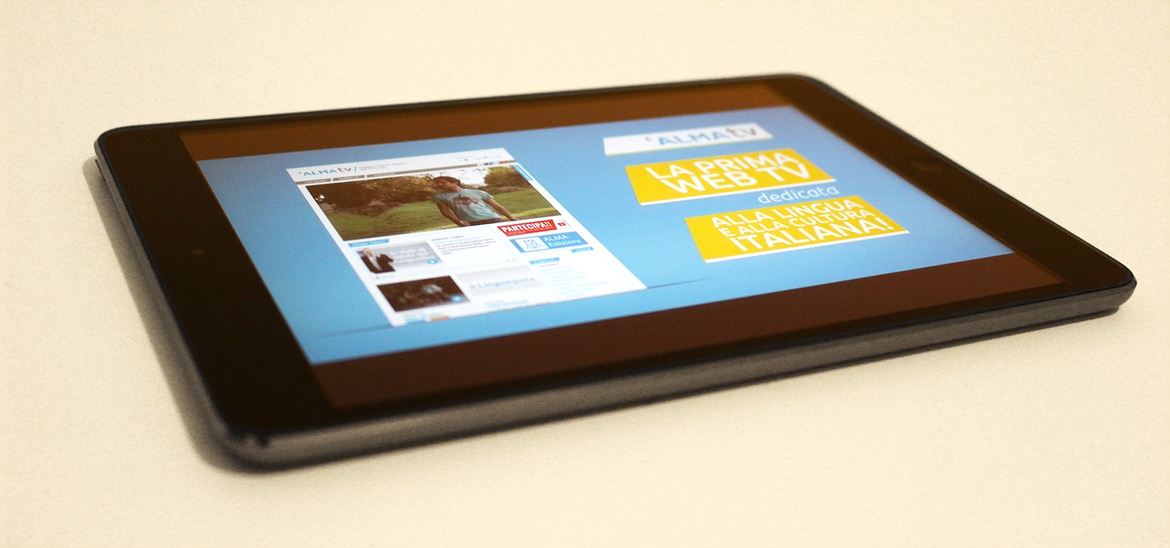 Even though many internet users prefer to employ the PC to connect, however, consulting our data we noticed that the number of accesses from mobile devices exceeds 30% of the total. If we analyze this data, we discover I phone still dominate the scene. The most commonly used devices are iPad and iPhone, followed by the various Samsung products.
Geographical map
One of the most important objectives, in editor's opinion, was to reach out to remote populations interested in the study of Italian language. And we can be satisfied as we can point out that not only European users rely on Alma TV resources.
By analyzing geographical coverage data, it comes to the light that the platform is considered as a point of reference worldwide. Lots of users from different countries use it to learn Italian language.
The biggest part of data flows from (first 10 positions – excluding Italy): Argentina, U.S.A., Spain, Brazil, Germany, France, U.K., Russia, Belgium and Switzerland. But the most astonishing fact is that the website recorded numerous accesses from unexpected countries like as Australia, Kazakhstan, Mexico, Serbia, Uruguay and Taiwan.
Alma TV immediately emerged as a huge hit in the media, which published many articles about this theme. The website pointed out how the website already constitutes a benchmark for many people. Here we providean article from the newspaper "La Stampa".