Dragos Dimitriu was in Prato on saturday 27 December.
We cannot miss the occasion to listen him talking about Kanban.
Dragos Dimitriu is recognized as the first IT Manager who successfully applied Kanban and the Theory of Constraints (TOC) to software engineering.
A Christmas meetup in Prato
A meetup is an informal meeting about some specific topic.
It was located in Prato, at the 2ndQuadrant and Devise.it offices.
The office was cold, I have to say. However, the environment became quickly hot, because of the warm people inside :)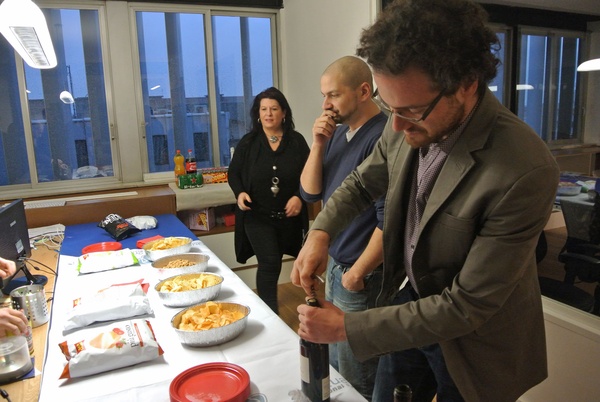 The numbers
Gabriele Bartolini, from 2ndQuadrant, showed us some numbers and graphs about its (team) first year of Kanban adoption.
That was impressive. They just doubled productivity.
Dragos Dimitriu also reported some impressive numbers regarding productivity of companies he is consulting.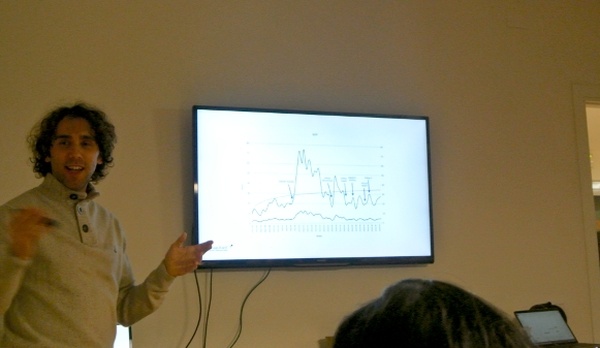 Getting into Kanban
After some chatting about the 2ndQuadrant experience with Kanban, Dragos gave us a little introduction of what Kanban really is.
It is not the goal of this article to explain what is Kanban. I advice you to read one of the many Kanban books available.
Here are some interesting links:
I am trying to write about the emotions Dragos transmitted us when he was explaining Kanban. As the name may suggest, it is not just a workflow improver, it is a way of thinking our jobs.
It was not like a motivational speech by some suited man. He showed up numbers, and they were impressive. He explained us how to reach that numbers, and it was extremely... simple.
We got into details about the 2ndQuadrant board. Gabriele explained parts of the workflow and we discussed it with the help of Dragos. It has been great.
Cheers for a great 2015
We drunk some good "spumante" and red wine to cheer a great 2015 to each other. I was happy to meet again some not-tech people after some years.
Our experience
After the meetup, I was excited to bring some of the Kanban ideas into our team. As a team we love agile methodologies, Kanban is one of the most popular techniques nowadays and we would not refuse to give it a try!
We are growing quickly, and we are experimenting with workflow techniques and best practices to reach the holy grail about productivity.
We started searching for a software which would suits our needs. We end up trying Taiga. Taiga is:
Free. Open Source. Powerful. Taiga is a project management platform
for startups and agile developers & designers who want a simple, beautiful
tool that makes work truly enjoyable.
Sounded promisingly, so we started using it. The fact it is open source and based on Django is foundamental for us. We are django hackers and open source enthusiasts ;).
We will test taiga for the next months and we will hopefully contribute to it.
Conclusions
Kanban is the way we choose to get the things done quickly. Our teams (marketing, developers and communications) will use taiga to manage the workflow.
Stay tuned for future reports about how the things went.